Living an active lifestyle in the beautiful state of Colorado can take a toll on men's skin, with the dry climate, high altitude, intensely sunny days, and challenging environmental conditions. At Elixir Mind Body Massage, we understand the importance of healthy and resilient skin, tailored specifically for Colorado men. In this blog post, we will explore skin care products and services designed to address men's unique needs, ensuring optimal skin health and vitality. Let's dive in!
Toning is a crucial step in any skincare routine, and the ARCONA Cranberry Toner provides powerful benefits for men in Colorado. This toner, enriched with antioxidant-rich cranberry extract, gently exfoliates the skin, removing impurities and promoting a fresh and revitalized complexion. It helps combat post-workout dirt and grime, leaving the skin feeling refreshed and invigorated. Toner also helps to restore your skin's pH level, smoothing the texture of the skin by refining pores, and improving skin tone.

For exfoliation and detoxification, the Elixir Botanicals Mineral Mud is a fantastic choice. Packed with mineral-rich ingredients, this mud mask draws out impurities, unclogs pores, and revitalizes the skin. The mud also helps to balance oil production, reducing shine without stripping the skin of essential moisture. The 80+ minerals in the mud will rebalance the skin, ensuring a clear and healthy complexion after a day of adventure.

Maintaining sun protection is essential for active men in Colorado. Ultraceuticals Sunscreen offers broad-spectrum protection against UVA and UVB rays, shielding your skin from sun damage and premature aging. Its lightweight formula absorbs quickly, leaving no greasy residue, so you can focus on enjoying outdoor activities without worrying about sunburn or sun damage.

Colorado's dry climate can lead to overall body dryness, and the Botanicals CBD Body Oil is an ideal solution for men seeking nourishment and hydration. Infused with full-flower CBD and a blend of botanicals, this body oil deeply moisturizes the skin, replenishing lost moisture and enhancing overall skin health. Elixir's Moisturizing Oil is rich and luxurious and glides with ease. It will leave your skin soft, smooth, and moisturized, with no greasy or sticky residue. Elixir's  Oil is 100% All Natural and Certified Vegan. It absorbs quickly, leaving your skin feeling smooth, supple, and ready for date night.

Men can benefit from invigorating and energizing skincare experiences too. The LaLicious exfoliating and moisturizing body scrubs, with scents like peppermint and coffee, provide a refreshing boost during your shower or bath. These scrubs gently exfoliate, removing dead skin cells and revealing a rejuvenated and smooth complexion. The moisturizing properties help combat dryness, leaving your skin feeling refreshed and revitalized.
Colorado men deserve skincare essentials tailored to their unique needs. From the powerful benefits of the ARCONA Cranberry Toner Triad Pads to the exfoliating properties of the Elixir Mind Body Botanicals Mineral Mud, the sun protection offered by Ultraceuticals sunscreen, the hydrating effects of the Mind Body Botanicals CBD Body Oil, and the refreshing experience of LaLicious body scrubs, Elixir Mind Body Boutique provides a range of skincare solutions to enhance your active lifestyle.

Book an appointment with an Elixir Esthetician to see the deeper layers of your skin for specific service and product recommendations unique to your skin's needs.  The OBSERV 320 is a powerful tool to get an accurate picture of 4 levels of your skin.  We share these photos with you and often people like to get a 2nd OBSERV analysis after using great skincare products and receiving facial treatments so they can see the improvement in their skin on every level.   Your initial OBSERV service is just $15.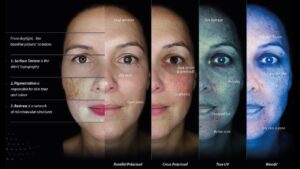 Because you only have one face in your life, and it deserves to be treated at least as well as your car. Designed especially for the challenges of men's skin, this effective treatment will cleanse, tone, and purify with organic products to keep you looking your best. Don't worry- we haven't forgotten facial hair. Beard oil to soften and help with ingrown hairs is the finishing touch to this relaxing treatment.

Get in the clear with this pore-purifying acne facial. Using Salicylic acid to deeply and effectively cleanse the skin, this curative treatment will dissolve oil and help to control bacteria. Excellent for healing inflammation and rebuilding the pore wall. The results are a balanced, refined complexion.

Utilized by refined European spas for over a century, this time-honored service supports one of the largest and most important organs– your skin! Dry brushing eliminates accumulated toxins, gently exfoliates and increases circulation. The brush and instructions are then yours to take with you for continued home therapy.

This Smart Aging sauna session starts at a low, constant intensity level to penetrate tissue to help with various skin concerns.  Near IR LEDs improve overall skin tone, elasticity, and firmness promoting smart aging benefits.  There are also wonderful mental health benefits that help keep stress from showing up on your skin.  Relax in a comfortable heat that feels more like laying in the sun than suffering in a traditional sauna.
Take care of your skin and enjoy the benefits of a well-rounded skincare routine that supports your adventures. Your skin will thank you!