Real People Real Results
Cryoskin Before & After Photos
Imagine waking up each morning, looking in the mirror, and loving what you see. Seeing your happiest and best self reflected back at you. A body that is YOUR body, at its best. Imagine appreciating each contour, fitting beautifully into your favorite clothes, and confidently navigating your day. That's our goal for you with Cryoskin at Elixir. Because you don't want to be anybody else, and you don't want expensive, painful, and invasive procedures. We're here to support you in your journey to become the best possible YOU that you can be. Aren't you ready to love being in your body? Because we're ready to get you started.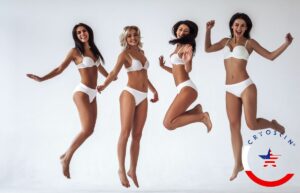 At Elixir, Cryoskin is not a one-size-fits-all treatment. Any Cryoskin provider worth their salt will tell you that the process is different with each body, as artistic as it is medical. And your treatments alone do not comprise your treatment plan. We provide a variety in-house supportive services and products to help you get the best and fastest results on your Cryoskin journey. And we look at your life holistically, beyond our doors, to provide you with the best possible support, strategy, and partnership to reach your goals. Our Cryoskin team provides a safe and comfortable environment so that you never feel alone and your vulnerability is honored every step of the way.
Elixir Mind Body Massage is Denver's premier Cryoskin studio using the most technologically advanced Cryoskin Revolution equipment available.  These non-invasive, safe, and relaxing treatments will help with slimming, toning, tightening, and lifting.  We can treat very specific areas that are typically resistant to dieting and exercise. Some of the most popular areas for Cryoskin contouring slimming and toning treatments are double chins, stomach, flanks, arms, back, thighs, and butt. No suction, no surgery. Just incredible results.
What are you waiting for? All you have to lose are inches, saggy skin, and wrinkles.
Take a look at some of the amazing results people have seen with Cryoskin below.
Cryoskin Before and After Photos
Book Consultation
Learn More