Holy handwashing Batman! Rough skin and painful knuckles are becoming much more common these days. Between the excessive use of hand sanitizer, moisture stripping soaps, and continuous hand washing, it feels like an uphill battle to keep our hands and cuticles properly moisturized. This is only going to be exacerbated by the approaching cold, dry winter months, so having a few things in our arsenal to combat this painful and continuous cycle is key.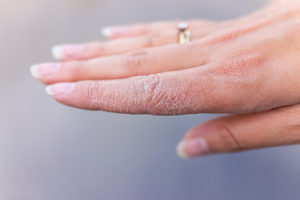 First and foremost, Elixir has added a Collagen Hand Mask treatment to our service menu! It is a luxurious enhancement to ANY facial service that provides intense moisture and hydration leaving your hands baby soft for several days after. Your hands will be placed inside a glove saturated with hydrolyzed collagen, and then placed inside warming mitts. The heat from the mitts increases product absorption, aids in mild pain relief from arthritis, carpal tunnel, and other hand and wrist discomfort, and provides soothing warmth while you simply relax and enjoy your facial.
Glycerin, shea butter, niacinamide, and hyaluronic acid are just a few of the active ingredients that work synergistically with the Collagen in this hand mask to create a powerful soothing and softening treatment fit for all skin types and conditions.  I can assure you this will be a huge relief if your hands have needed the extra love.  To reserve this treatment for yourself you can call 303-571-4455 or book online 24/7.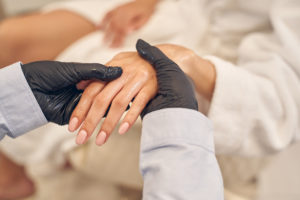 While we all know you can't always come in for a hand treatment, let's talk about some products you can use at home, including an item you might even just have sitting in your kitchen cabinet.
MOISTURIZE One of my favorite ARCONA products that can do double duty as a facial skincare balm and a hand care product is the ARCONA Chamomile Balm. This soothing anti-inflammatory balm nourishes compromised skin and helps strengthen the skin's natural defense system.  It can neutralize free radical damage with antioxidant white tea, apple extract, and vitamin E.  Just like all ARCONA products, a little goes a long way. 1 -2 pumps is all you need to get good coverage over the hands and nails.
EXFOLIATE: Exfoliation can be a great option for those who aren't experiencing a lot of sensitivity. I recommend using a washcloth or a gentle exfoliant like ARCONA's golden grain gommage. A pea-size amount mixed with a bit of cleanser will leave your hands fresh and clean without dehydrating them. This product contains nourishing oatmeal and aloe to soothe and refresh.  This is safe to use 2-3x a week.
AT HOME TREATMENT: At least once a week, I like to set aside 5 minutes to let my nails and cuticles sit in a small bowl of warm oil; but you could certainly do this daily if necessary. You can use oils you may already have on hand at home like olive oil, coconut oil, or avocado oil. Of course, any of Elixir Mind Body Botanial's massage oils can also be used for this lovely at-home treatment. The Elixir Mind Body Botanicals CBD massage oil can provide anti-inflammatory nourishment and can potentially relieve mild aches and pains in the joints as well. I put enough oil in a bowl to cover my fingernails all at once and warm it in the microwave for about 10 seconds.  You don't have to warm the oil, but it feels good and can provide a more intense treatment.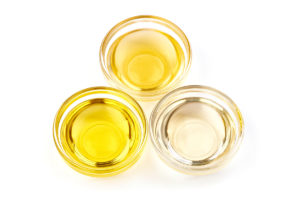 I keep a paper towel close by, and once 5 minutes has elapsed, I will take my fingers out of the oil and massage the remaining oil into my hands, nails, and cuticles. Any excess oil can be wiped off with a paper towel.  Just like the order of application on your face, remember to apply your lotions and balms BEFORE your oil, so the oil can lock in the hydration.
For best results, moisturize your hands before you go to bed. This gives your skin time to absorb all of the nutrients overnight and if you can wear cotton gloves, I highly recommend it. You can also get great benefits wearing the gloves for 20-30 minutes if you prefer not to sleep with them.
PREVENTION AND PROTECTION:  Remember to wear sunscreen on your hands during the day as well.  You may not realize how much sun exposure your hands get on a daily basis. The best way to prevent dark spots, freckles, and fine lines on the hands is sunscreen. It should be applied whenever you are going to be spending time outdoors, in sunny climates, or driving. I keep a tube in my purse and my car to help make daily use easier.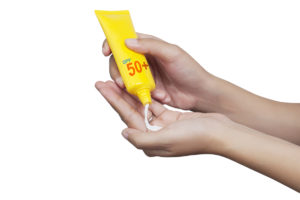 With these treatments, products, and at-home tips you should be able to keep your hands soft and supple this winter and beyond.