Enjoy A Spa Getaway At Elixir Or At Home
Spa getaways promise a special kind of mind-body tune-up. A chance to dedicate time to unwinding, re-energizing, and wellness. Thanks to Elixir's customizable well-being packages, you don't have to travel out of town to feel like you are getting away from it all for a few hours.
Whether you are coming into Elixir to savor the perfect spa day or you are wanting to create a DIY home spa experience this blog will help you find or create the perfect spa getaway.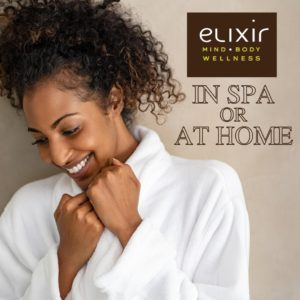 Experience the Elixir Difference
Whether for you need some self-care to maintain your sanity or want to give someone a well-deserved and needed respite, we have something for everyone.  We have created 4 sublime staycation packages that address the most common requests we see at Elixir; Relaxation, Athletic Performance, Weight Loss, and Smart Aging.  At Elixir we strive to provide professional, exceptional services designed specifically with our guest's needs in mind.  Our providers are trained in multiple modalities so they may customize each service with your preferences.

Unwind and Relax
Package
Is life feeling a little intense lately? Need to deeply relax so that you can regain some healthy balance? We understand and have created a trio of treatments that will have you saying 'c'est la vie'.
Includes an Essential Balance Massage, Signature Facial, and Stress Relief Sauna

Workout Recovery Package
Whether you are training for a marathon, starting a new exercise regimen, or overdid it over the weekend you will find what your body needs here.
Includes a Deep Heat Hot Stone Massage with CBD Oil, Organic Enzyme Peel Facial, and Pain Relief Sauna

Shape Up Package
Getting ready for a special day like a wedding or birthday? Hitting a plateau in your weight loss program? Wanting to kick off a new healthy lifestyle in a positive way? This package is for you.
Includes a Bioslim Body Wrap, Fit Face & Neck Lift, and Weight Loss Sauna

Fountain of Youth Package
Feel like stress or chronic pain is aging you beyond your years? Take time to care for yourself, reduce your stress, and focus on healthy activities like these relaxing treatments that will make you feel and look more robust and radiant.
Includes a CBD Relief Massage, Dazzling Double Face Lift, Collagen Hand Mask, and Smart Aging Sauna
Not sure what would work best for you or don't see exactly what you are looking for with these packages? Elixir's concierge staff is happy to consult with you about which services and products will best address your specific needs.
Create an At-Home Spa Experience

Hydrotherapy
The practice of using warm water immersion, such as soaking in a tub or foot bath, to help treat a wide range of ailments such as high blood pressure, anxiety, aching joints, and sore muscles. Many people with active lifestyles take advantage of the many hydrotherapy benefits; it reduces post-workout soreness, aids in muscle recovery, and is often used in physical therapy. It is also a great stress-reducer and has been shown to relieve anxiety and promote feelings of well-being.  Here are three Hydrotherapy treatments you can try at home.

Facial
s
While promoting relaxation, regular at-home facial care will provide noticeable improvements to your skin tone, texture, and appearance. Skin is our largest organ. Healthy skin is our body's first line of defense against illness, bacteria, and disease, so taking care of it is extremely important. If you are experiencing maskne, hormonal skin changes (like we see with pregnancy, menopause, or PMS), or are seeing the signs of stress-related skin issues; regular skincare with quality products is needed.  Taking good care of your skin is not only easy to do and makes you feel more confident and your skin more radiant, but an at-home facial also feels like a lovely stress-reducting treat.  Here is a simple to follow tutorial for a home facial.

Dr
y Brushing
An ancient practice used by Egyptians, Greeks, Chinese, and Japanese that has been around for centuries. It's believed to have many health benefits including improving the lymphatic system's overall condition. The lymphatic system is how the body flushes out waste as it circulates through the body and it also carries white blood cells that fight infections. Many find a reduction in the appearance of cellulite when dry brushing regularly. Dry brushing can help remove dead skin cells and is a gentle, simple, and affordable way to incorporate regular exfoliation and lymph support into your daily routine. 

Aromatherapy and Essential Oils
Aromatherapy is an ancient holistic healing treatment that uses natural plant extracts to promote health and well-being. It is also known as essential oil therapy. Aromatherapy uses aromatic essential oils to support the health of the body, mind, and spirit, enhancing both physical and emotional wellbeing. Diffusers, massage and body oils, bath products are simple ways to enjoy these benefits for yourself at home.

Foot Massage
Foot massage is a simple and accessible home treatment for tired or aching feet. It can help you relax and de-stress, supporting your overall sense of well-being. It is something you can easily do for yourself or for someone else. Here are step-by-step instructions for giving a great foot massage.

RAD Massage Tools
RAD tools are perfect at-home massage, mobility, and recovery tools for every body and every lifestyle. Improve flexibility, release tight muscles, and improve range of motion with regular use of these amazingly effective and easy to use self-massage tools. Download the free app for over 250 how-to videos, curated playlists, and track your progress and share with friends.
At Elixir we have a specially curated line of home care that goes beyond what we have shared with you here.  Elixir's Boutique is a great source for finding wellness products you can use at home every day to create healthy mind-body rituals, a home spa sanctuary, and an ergonomic home office.  You can shop at Elixir's Boutique at our Denver location at 1518 Wazee St. or visit us online to shop from the safety and convenience of your own home.